Our history
It all started in 1889 when Norwegian sea captain Magnus Andersen founded the newspaper Norges Sjøfartstidende.
DN Media Group has a long history. Over the decades, it has evolved into Norway's leading business daily Dagens Næringsliv (DN), the profits from which have helped launch a fleet of international publications covering shipping, energy, seafood, and aquaculture.
The last few decades of the 19th century were good ones for Norwegian shipping. Norway was among the world's leading maritime nations, in the same top division as Great Britain and the United States.
Norwegian vessels sailed the seven seas, generating cash for their owners and livelihoods for a growing number of seafarers. But Norway's merchant fleet was full of old and poorly maintained ships, known for their unhealthy working conditions on board. In short: It seemed a perfect time to start a dedicated shipping newspaper.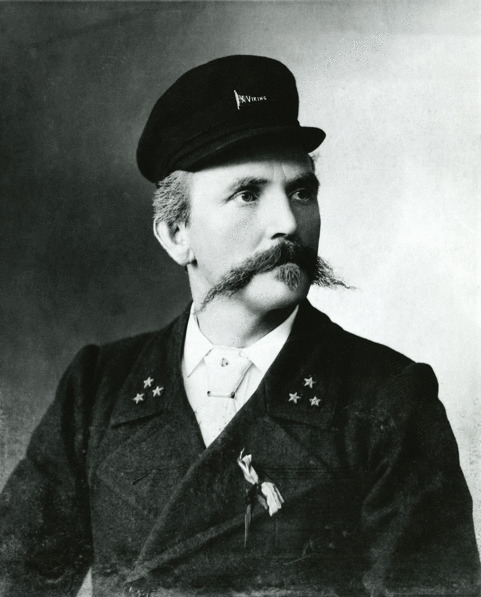 Humble beginnings
1890
Norges Sjøfartstidende (literally, "Norway's Shipping Times") is launched on January 1. The debut issue contains an upbeat economic forecast, pledges to work for improvement in shipping standards and promote internationalization of Norway's economy. "Norway must do more to make itself a force in foreign markets," writes the new newspaper's founder, Magnus Andersen.
The first issue also contains a poem, but not enough advertisements to fill the front page.
Andersen, a former sea captain, quickly learns the harsh realities of the newspaper world – fierce competition, disloyal readers, unstable revenue and outsiders trying to meddle with a newspaper's priorities and opinions. All these issues will continue to be important parts of the newspaper's coverage and challenges for the next hundred years and more.
1894
Andersen gets squeezed out of the paper he started, amid large financial losses and dwindling support from readers and advertisers who do not share his enthusiasm for more Norwegian self-rule in its troubled union with Sweden. He has also allowed his paper to drift while taking a year off to sail a replica of the Gokstad Viking ship from Norway to the 1893 Chicago World Fair.
Norway gains independence from Sweden
---
Norges Sjøfartstidende is acquired by a substantial group of shipowners looking for a mouthpiece. They're led by powerful businessman Thomas Fearnley (son of a famous artist with the same name). Other initial shareholders include two generations of the Fred Olsen shipowner dynasty. Magnus Andersen, angry and disappointed, moves on to found a competing paper called Kysten (literally, "The Coast").
1905
Norway's long battle for independence from Sweden culminates with a referendum resulting in a resounding "YES." But Norges Sjøfartstidende avoids writing about these historic events, possibly because of strong ties between Sweden's royals and Thomas Fearnley, the main shareholder who preferred to uphold the union.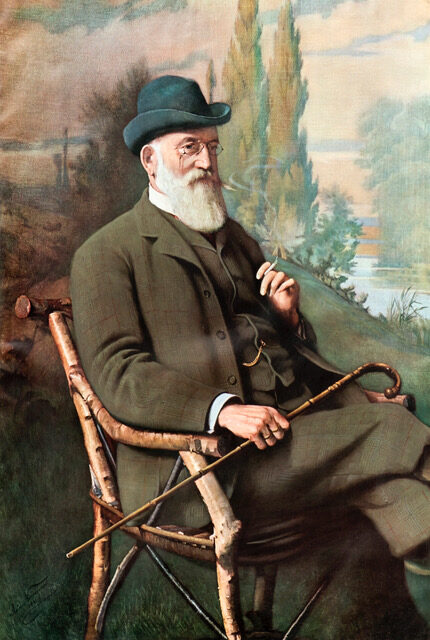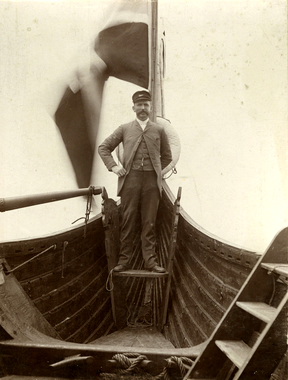 Helga Bjørnskau, a young woman who had joined the paper as an office assistant, was named head of business operations in 1894. At that point in time, Norwegian women did not even have the right to vote. She kept the top job for more than 20 years, while male editors came and went.
Bigger business
1912
Norges Sjøfartstidende merges with Kysten and a small journal called Norges Handelstidende (literally, "Norway's Commercial Times"). The newly merged paper renames itself Norges Handels og Sjøfartstidende (NHST). It expands its coverage to business beyond shipping. Kysten's strong-willed editor, Knut Domaas, becomes editor of the merged newspaper just in time to guide its coverage of the sinking of the Titanic in April 1912.
1915
The paper celebrates its 25th anniversary in the shadow of World War I, in which many merchant ships are torpedoed and scores of Norwegian sailors lost at sea. Business is brisk at NHST as Norway experiences a war-related economic boom, with great demand for business news and advertising space for shipping projects.
1923
NHST launches a fisheries newspaper called Fiskeren (The Fisherman), hoping to develop it into an industry-wide European journal. That does not happen, and it is sold off quickly, then bought back 75 years later when similar ideas pop up.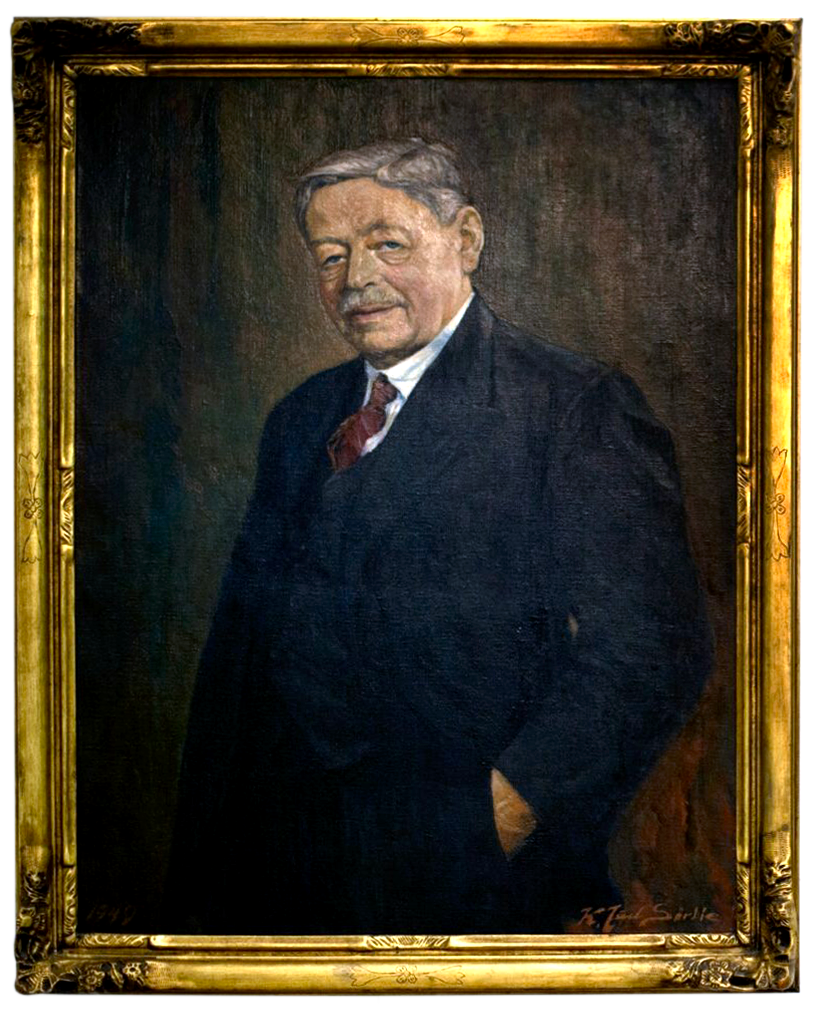 1933 – 1945 / The Depression and World War II
---
Dark Decades
1933
With fascism and Nazi Germany on the rise in Europe, Domaas positions his paper to the far right. In 1933, he prints the infamous editorial "More Fascism, Mr. Prime Minister," suggesting that Norway could learn a thing or two from Hitler and Mussolini. The headline was later reused as the title of an academic study of attitudes in Norway's non-socialist press in the 1930s.
1940
Under German occupation, all Norwegian media including NHST are subject to heavy Nazi censorship and directives to print Nazi propaganda. Unlike some other papers, NHST is allowed to keep its editor, as NHST is deemed "loyal" by the puppet Nazi regime. In 1943 the paper shrewdly avoids a forced merger with other Oslo dailies, winning approval to keep publishing as a non-political weekly with only economic content.
After the war, a review by Norway's state prosecutor harshly criticizes NHST's policies in the years leading up to May 1943, accusing it of printing German-friendly articles and hateful coverage against Norway's allies, especially Great Britain. There are no objections to the weekly that was published from 1943 until the war ended in 1945.
Shrewd move
The wartime weekly featured a regular commodities column. To whet the reader's appetite, the first four columns just happened to discuss commodities that were in great demand because of war-related shortages – potatoes, sugar, coffee and tea.
Golden Years
1947
Shipowner Thomas Fredrik Olsen becomes NHST's largest shareholder and chairman of the board, reflecting a gradual change in ownership of the newspaper from the Fearnley sphere to the Olsens'. He had first joined the board in 1939. Under his leadership of the newspaper's board, the Olsens take on a clear role as dominant owners for the first time.
In the post-war decades, Norwegian shipowners are doing well, and so is the newspaper covering them.
1959
NHST exposes illegal ammunition exports from a government-owned producer to Cuba, where a fascist regime is embroiled in civil war. The ammunition shipment arrives after Fidel Castro's rebels have won the war. The story wins Narvesenprisen, the most sought-after press prize at the time. The story, by soon-to-be editor Terje Baalsrud, heralds an era of crusade-style journalism aimed at perceived shady manoeuvring by the ruling Labour Party to turn Norway into a socialist state.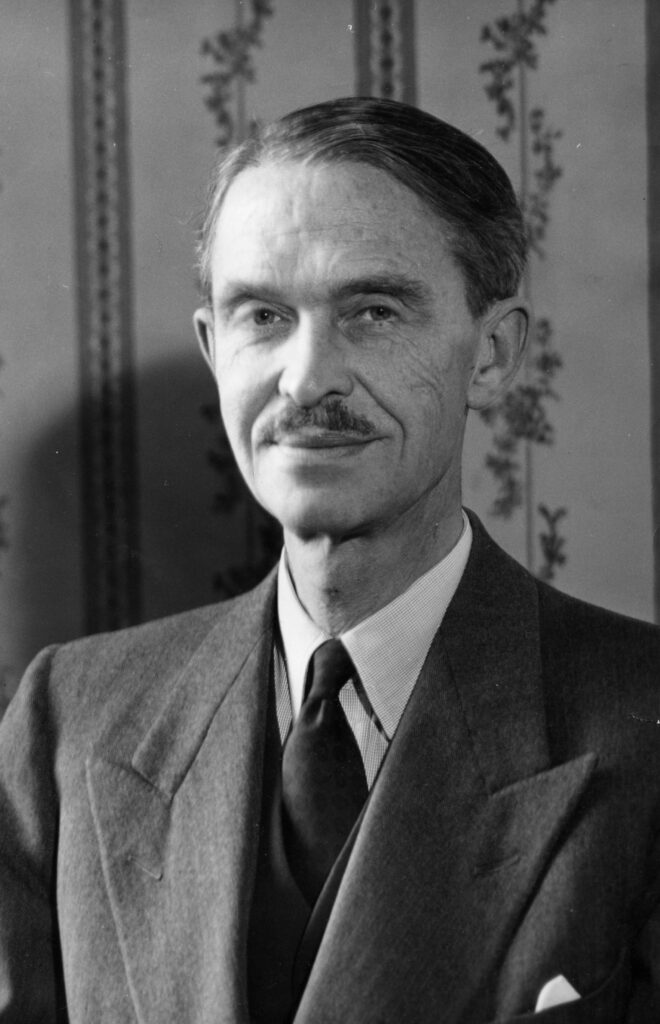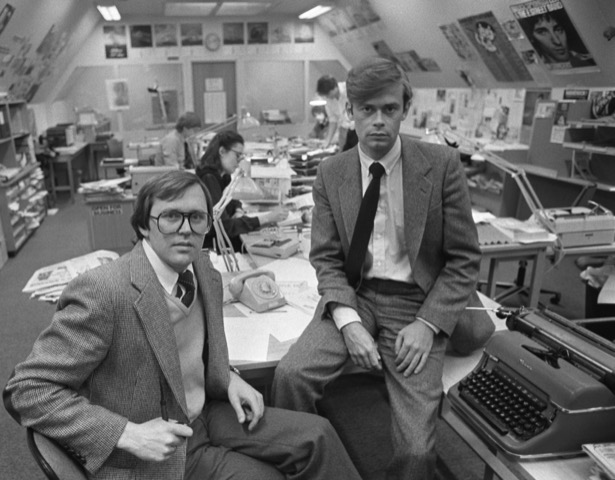 1980
With the shipping industry struggling in the aftermath of the 1973 oil price shock and subsequent recession, the newspaper and its board launch a dramatic turnaround effort to avoid bankruptcy. Norges Handels og Sjøfartstidende is to become a paper covering the entire business sector, moving beyond the limitations of a niche shipping paper. It also changes its format to tabloid, becoming a morning newspaper instead of publishing in the afternoon, and ceasing publication on Saturday, after most Norwegians had won the day off.
The bold changes are masterminded by Jan Erik Knarbakk, a 28-year-old editor who already has extensive background from the tabloid press. Knarbakk works closely with another young talent, Eric Cameron, and the two become joint editors-in-chief in 1982.

1984
Financier Erik Must joins the board, after steadily investing in NHST stock for more than a decade. Trygve Hegnar, editor of a competing media company, also buys stock but is rejected by the board. Various members of the Must family remain significant shareholders.
1985
After some top-level personnel changes, a fearless and creative business journalist becomes the paper's new editor. Kåre Valebrokk is also a former businessman selling heavy machinery. Building on the early successes of his tabloid predecessors, Valebrokk seizes opportunities offered by the golden years known as the yuppy era of so-called Young Urban Professionals. Typical content includes news and comment from the revived Oslo Stock Exchange, personality profiles on the newly rich and their noisy clashes with stalwarts of Norway's business community.
Valebrokk coins a motto: En fri avis, "an independent newspaper," signalling that it is independent of everyone, including its shareholders.
Becoming Dagens Næringsliv
---
1987
After just two years on the job, Valebrokk convinces shareholders to rename the newspaper Dagens Næringsliv (The Norwegian Business Daily, abbreviated to DN ) and resume publishing on Saturdays.
The new DN lørdag Saturday edition with in-depth stories, becomes highly successful. The following year, DN starts publishing on peach-colored paper, known in Europe as "financial pink." It also ventures into digital news distribution for the first time, picking a fight with international wire services by launching an agency called DNX. Later on, the agency diversifies into energy news, paving the way for the company's energy publication Europower.
Fun fact:
Readers were invited to propose a new name for the newspaper. A competition attracted more than 12,000 responses with almost 7,000 different name proposals. The winner was given a Lancia car.
News for the world
1990
The company lavishly celebrates its 100th anniversary, flush with cash from the profitable 1980s but worries there may be a limit to the number of readers willing to pay for a business newspaper that's only printed in Norwegian. "We're running out of Norwegians," Valebrokk famously declares, and goes on to launch TradeWinds, a shipping weekly in English, printed on blue paper in Norway and aimed at the global market. Headed by veteran business reporter Trond Lillestølen, TradeWinds promises "to ask all those nasty questions that nobody else asks and take a close look at all those unlit corners of the fast-moving world of shipping." TradeWinds is headquartered and edited in Oslo with stories from reporters in shipping capitals including London, Athens, Hong Kong, Tokyo and Connecticut in the US. A major office is eventually set up in Singapore.
1996
The group launches Upstream, an oil and gas weekly printed on peach-coloured paper and modelled on TradeWinds. It also builds a large network of international reporters with editors in Oslo. Headed by TradeWinds veteran Erik Means, it pledges to be "a new and distinct voice for an oil and gas industry too long forced to survive on a diet of lukewarm journalism." It takes several years for either paper to become profitable. TradeWinds and Upstream staff start sharing offices in several places around the world. They're eventually joined by colleagues from fisheries and seafood publication IntraFish, acquired in 2001 as a third new venture for the world market. Meanwhile, NHST Asia PTE is established in Singapore as an independent company.
1999
Valebrokk leaves to become head of TV2, Norway's commercial television channel. He is replaced by two men; Gunnar Bjørkavåg as group CEO and Amund Djuve as editor-in-chief and publisher of Dagens Næringsliv.
Under Djuve, a staunch supporter of investigative journalism, DN reporters regularly win prizes and fame for exposing Norway's less attractive realities, including corruption and white-collar crime. Meanwhile, global financial instability repeatedly comes back to haunt the group's existing international ventures while complicating new ones.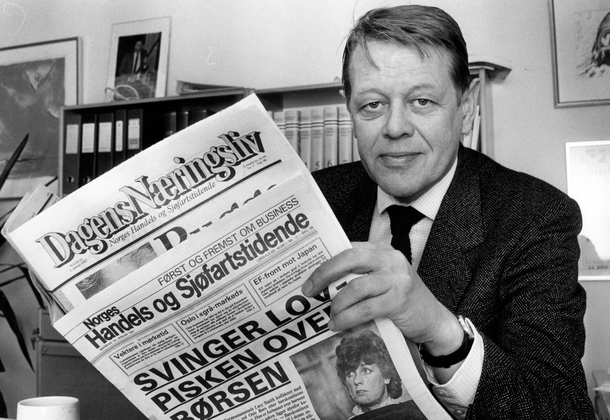 New Horizons
2000
In the late 1990s, DN explores various ways of digital publishing. In 2000, DN.no is launched as an open business news website free of charge, independent of Dagens Næringsliv's organization and printed newspaper. It's organized as a separate company with its own editorial staff and management, and has little interaction with the printed edition.
2002
Anette S. Olsen, daughter of shipowner Fred Olsen, becomes chairman of the board.
2007
DN launches D2, a glossy and highly profitable weekly covering lifestyle, fashion and more. Its core audience is playfully described as "young people, but not so young they don't have money." Meanwhile, the group renames itself, somewhat simplifying "Aksjeselskapet Norges Handels og Sjøfartstidende" to "NHST Media Group." It also ventures into public relations, acquiring Swedish PR firm Newsdesk and renaming it MyNewsdesk. IntraFish acquires several competitors, making it the world's largest newsroom for fisheries and seafood markets.
2008
NHST and its publications are badly hit by the global finance crisis. At DN, still the group's main profit generator, 60 percent of advertising revenue disappears almost overnight. Weeks of panic and despair follow, forcing major cutbacks and layoffs, and delay of new product launches. A newspaper covering wind and renewable energy called Recharge is, however, allowed to go ahead.
2014
Ideas of integration take hold in DN, as the staff of DN.no moves into Dagens Næringsliv's newsroom, and both the printed paper and the website are placed under the same editorial leadership.
2015
DN launches DN Investor, a market service built by startup Norkon Computing Systems. DN also invests in Norkon, which later expands internationally selling software as a service solutions to high-end clients like The Telegraph (UK) and Børsen (Denmark).
2017
DN launches DNX Studio, entering the growing market for content advertising, an area seen as controversial in parts of the Norwegian press. The venture quickly turns a profit, forcing executives to admit they should have taken this step earlier. The DNX name, meanwhile, was recycled from the paper's first venture into digital financial news almost 30 years earlier.
2018
Group CEO Gunnar Bjørkavåg resigns after 18 years in the job. New CEO is Hege Yli Melhus Ask, with background from insurance company Gjensidige and electricity provider Hafslund.
The group acquires Paris-based media monitoring firm Mention, adding it to its software as a service business. Meanwhile, NHST's nautical charts operations are sold off after supporting the newspaper mothership for more than a century.
2020
NHST digests the surprise departure of group CEO Hege Yli Melhus Ask, after less than two years in the job. She is succeeded by Trond Sundnes, a former investigative reporter and foreign correspondent at DN and top executive of NHST Global Publications.
2021
NHST Media Group turns its parent into purely a holding company with no employees, naming it NHST Holding. Operations, meanwhile, are reorganized into two groups, one for the media business (NHST Media Group) and one for its "software as a service" activities (NHST Marketing Technology).
2022
Editor-in-chief and publisher in Dagens Næringsliv Amund Djuve leaves his position after 22 years, to become the group's director of publications.
Veteran DN reporter and news editor Janne Johannessen becomes the newspaper's first female editor-in-chief.
The company launches two new titles. Hydrogen Insight is spun off renewables publication Recharge as a hydrogen specialist title. Kystens Næringsliv is launched to cover Norway's maritime industries, building on the group's fisheries journalism history and bringing the Kysten name back to the NHST family after more than a century.
2023
NHST Media Group renames itself DN Media Group, reflecting the importance and history of the company's flagship newspaper DN. The media group now consists of 10 publications, covering business and society in Norway, and shipping, seafood, aquaculture and energy globally. With headquarters in Oslo, and key offices in Bergen, London, Singapore and Stamford, the group is characterized by being Norwegian with a global mindset, much like founder Magnus Andersen back in the 1800s.
Contributed by Morten Møst, longtime DN journalist and author of Making Waves, a book on the history of the company, released in 2015 by Gyldendal Akademisk publishing firm. The 500-page volume tracks the media company's position in Norway's history and business journalism. It's also available in Norwegian as Kroner og røre (literally, "Cash and commotion").